This is a Small Collection of information i have peiced together on porting applications on rotarys.
First I'll explain of where the ports are situated in a Rotary Engine. A typical 13B 4 Port engines main parts will consist of two end plates, 2 rotor housings, an intermediate housing and the eccentric shaft. Every Mazda Rotary, except for the new RENESIS developed for the Mazda RX-8
have side port inlets and Peripheral Ported exhausts, the RENESIS using side ports for both intake and exhaust.
The engine sits together so the end plates are obviously, at each end, beside these are the rotor housings, made of alloy. Then in the middle sits the intermediate housing, the rotors themselves sit inside the rotor housings. In side port inlet engines, (stock, mild, extend, bridge, J and monster) the ports are situated in the end and intermediate housings. The inlet manifold will have four ports, 1 port each for the end plates and 2 ports for the intermediate which faces both rotor housings hence has one port each side of it.
Aside from adding a turbo or supercharger to a rotary engine, the only other way to increase performance is by porting the intake section of the engine. Porting a rotary engine is a way to extract more power from it,
although often, the bigger the port the less drivable and practical the engine is. There are several different types of porting available for the rotary engine, ranging from mild all the way to the peripheral port. A turbo rotary engine can also receive a porting along the lines of a mild or extend port, bridge-porting a turbo motor is possible, but it is uncommon (due to overlap). While porting is still a popular engine modification, in recent years, the 13B Turbo motor has taken over as the main engine conversion for many older Mazdas, mainly due to their lower prices and increased reliability. But nothing can really beat the sound of a good ported rotary.
Standard Port - You can make decent power out of a stock 13B 4 port engine, the rotary engineproduces a lot of power from freeing up the exhaust and induction mods. Formula Mazda cars in the states run completely stock 13B 4 port engines except for exhaust changes and a 48 mm side draft Weber carburetor (not IDA). These figures are not Rock solid in concrete but give u an average figure of what a Standard port can produce
Max Power - 185 HP @ 6300 RPM
Max Torque - 140 lb-ft @ 5900 RPM
These cars have a rev limit of 8500 RPM, Rotaries love to rev, this is due to the rotary engines flat torque curve and smoothness. When you consider stock 13B 4 ports put out 130 hp, some even less with REAPS
(around 120hp) this is a pretty decent gain. Although they don't put out a large peak torque curve, having such a flat curve means basically the same torque is available throughout the rev range. So this engine would probably be making around 120 lb-ft at 2000 rpm or so.
Mild Port - (Mild Extend, Street Port) A Mild Port is a slight increase in porting over stock, its pritty much the First Stage in porting where u open up the standerd size port on the side inlet, you can expect around 200 hp for a Mild Port with good induction & exhaust. Popular port due to there low emissions, noticeable increase in power, stockish idle and drivability, Though the usual case is when the engine is opend up people go the full works with Extended port or larger, for some real grunt. (the pussy of ports ;D )
Extend Port - (Large Street Port, Hyper Port) The Extend Port is as large as you can go with the primary ports. A decent Extend Port is near double the size of the stock port and will produce
up to 240 hp, possible more. This port produces longer port timing which moves the torque curve higher up in the rev range. Some low down torque is lost but mid to high range is much improved. You will notice a rougher idle and increased fuel consumption, this is a popular port for most turbo charged rotarys due to it doesnt allow "overlap" as larger ports do, but still gives maximum power to play with and letting the turbo do the rest.
Bridge Port - The next step in porting is the Bridge Port. There are a couple of different types of Bridge Ports, the first being to keep a relatively stock primary port, then cut a secondary port above this, the metal (bridge) left between the primary and secondary ports is how these
engines get their names. The bridge is there to stop the corner seals from falling out of the rotors as they pass by, some dodgy Backyard port jobs do occasionally stuff up and your apex seals fly out your exaust but this is another matter, get a pro to do it, its worth the money. Bridge Ports were probably the most common of all ported rotary engines at one stage.They are still very streetable and deliver very good power.
The Extended Bridge Port is exactly what it sounds like, running an extend primary port with a secondary port cut to match. True Bridge Ports will not go past the water jackets. These type of
engines have been able to put out up to 320 hp at the flywheel as proven in some of the Improved Production cars (with aid of there Hi tech RND intakes and exhausts). Bridge Ports are built for mid to high end power depending on the port. These engines will
produce peak power over 8000 rpm and can be rev'd much higher. They will have a very rough idle, nothing below 1500 rpm, with around 1800 rpm more suited. The brap.. brap.. noise you
hear from a large port rotor is the overlap (exhaust open while inlet is still open). These engines need a good open exhaust and lower gearing (ie. 4.4:1, 4.8:1 etc) helps to get the engine up into its power band quicker. The rotor housings need to have chamfers for a Bridge
Port and larger side ports. This is because the secondary port is much higher, otherwise the rotor housing will block half or more of the secondary port. The engine life of the bridge port is very good considering what figures the small capacity engine can crank out, you can expect years out of a good build bridgy and it will happily brap away. See the thread Below "Swiss Cheese" on another hybrid type of Bridge Port
J-Port - The second port on the J-Port are a lot larger then a Bridge Port and cut very close to the water jacket. These engines have poor low end but great high end power. Idle is around 1800 rpm. Less low end power is again to be expected. One drawback of this design is that the secondary port is extremely close to the water jacket and has a very bad tendency to break through flooding the engine with coolant. People argue the J-port and monster port are the same or do get them confused, but when looked at are considerably diffrent.
Monster Port - The Monster Port was designed to get around the banning of Peripheral Porting in racing and is the largest/most radical of the side ports. These engines can have a short life span due to the secondary port cutting through the water jackets. One piece apex seals are required on a
Monster Port engine or the seals won't be held in place as the rotor turns.
(i belive some of the earlyer make engines use the 2 peice seal design, The 10A for certain i know does) These engine will put out similar power to a larger Peripheral Ported engine, but share the same life
expectancy and excessive fuel consumption.
unless someone's a top notch TIG welder, die grinder and heat treater then steer clear of the Monster Port if you're after engine longevity. most builders just fill the water jacket they've just cut into with some kind of automotive 'mastik' - and in always ends up leaking remember this porting method was brought about by rally teams not being allowed to run a PP because of class restrictions leaving them with the 'factory' induction design, but needing that magic 300hp mark - a good 30hp over a top notch bridgeport of the day. they also had a rally team budget and didn't mind rebuilding them every 5000klms.
If you do build a J Port, remember that you really should weld an alum panel in to seal the water jacket instead of using Filler. then remember not to weld for too long at once as to warp the housing, die grind it nicely without leaving any burrs or nicks, then polish it to remove any potential fracture points. After all that, if you're paying someone else to do it, you could have just gone a PP for cheaper, or a big bridgeport with EFI. IMHO, J Ports are a dying breed in the ported rotor scene. the only reason to run one is if racing class restrictions don't allow a PP, and you're made of money...
Peripheral Port -
The engine will have these side ports filled in, most GOOD engineers or workshops will carefully weld over the old side port inlets and smooth it off, i have seen people use filler, its just plain ugly and i wouldnt accept
it. The Periphearal Port will have a port cut through theperiphery of the alloy rotor housing (hence the name Peripheral Port). The easiest way to tell aPeripheral Port engine from a side port is to have a look at the manifold, the Peripheral Port will have two runners going straight to the rotor housing, whereas a side port engine will have a manifold that looks to like a standard in-line four cyl manifold covering end plate to end plate.
So basically, in side port engines the fuel is fed into the end/intermediate plates, turns 90
degrees, before being burnt, whereas a Peripheral Port feeds fuel directly into the rotor housing. The
Peripheral Port (from what i know) ranges in sizes from 48mm, which in my opinion is a streetable size (though it is ironic calling a peripheral port "streetable") Up to much larger 52mm+ for very powerfull race engines who dont have to deal with legalitys of noise pollution. The shape of the inlet varies from a Circular shape to a 'D' style shape. Power wise, With a Good intake, Be it EFI or a big webber, and also not forgetting an exhaust to suit the Peripheral port can make in excess of 300Hp, yes thats N/A from an engine smaller in capacity then your carton of milk in the fridge, Though The life span of this in your engine is limited, through mainly i belive because the peak power gained by this style of port is above the 8000rpm range and Driveability is not so good as you'd expect with the powerband starting around 5000 rpm.Hence the continuouse flogging of your car, to reach this "power band" would be the first obviouse reason of an early engine life, Though Australias leading
club car, a 20B gen2 rx7 has run numerouse seasons with the PP set up and has yet to fail, though im sure the amount of RND on this engine would be second to none. As an average anywhere between 6-12 months is a more realistic figure for the average street racer. (though a hell off a 6-12 months it would be)
Peripheral porting is also practical to use with a turbo charged engine as there is smaller overlap with the intake/outake compared to a J-port/Monster Port and massive amounts of Hp can be made with this combination, from what i have seen only drag cars have run such a set up.Turbo engines which are Peripheral Ported have smaller ports and are cut further up (away from the exhaust) in the housing to reduce this overlap.
Exhaust Porting- With any type of intake porting, it pays to clean and en-largen the Exhaust Port.
These are a Peripheral type in Mazda Rotarys (except for the RENESIS), the larger the porting
(exhaust) the better mid and top end power. I myself havent heard of this being practised much as the origonal 2 inch ports flow considerably well and also match up nicely with the 2 inch primarys in the exhaust system
that u have made to suit your port, as a high exhaust velocity is reccomended when building a system so consistant diameters in tubing do pay.
Overlap -
Most Commonly Occuring in the Bridge,JP,MP and PP where a forced induction is applyd these large-overlap designs are not typically used in turbocharged applications because the "boost" will tend to leak directly out the (still open) exhaust port at low to moderate RPM, Due to the "eyebrow" of the port which is grinded into the housings surface isnt completely closed off from the face of the rotor, I have heard of people just upping boost to compensate for the loss, but lack of evedence have faild to swey my mind on how it solves this. The most common port design as mentiond is the extended port as far as forced induction and practicality goes.
Here is Some pictures Of Some Possible Intakes to Use on a ported Rotor
- Weber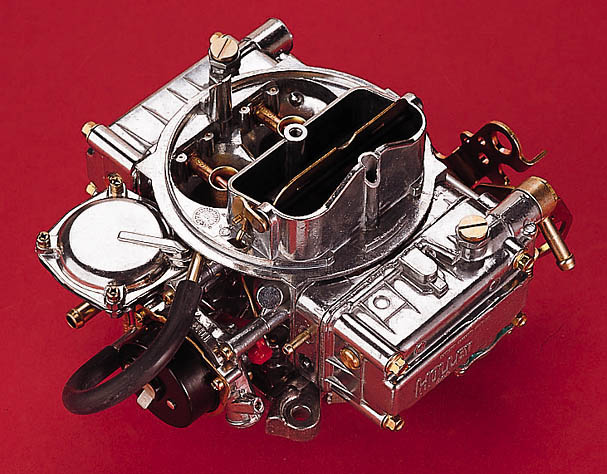 - Holley (Not everyones peice of cake)
- A more seriouse IDA style EFI setup
Here are Some links related to porting
Racing-Beat DIY porting Templates
http://www.racingbeat.com/resultset.asp ... mber=22201
Racing-Beat Example of Headers and an exhaust suited to a Ported engine
http://www.racingbeat.com/resultset.asp ... mber=16129
An AusRotor Thread on Building An ideal exhaust for a large ported Rotory engine
http://www.ausrotary.com/viewtopic.php?t=3583&start=0
An AusRotor Thread On IRPA Intakes And Seriouse Race Bp's
http://www.ausrotary.com/viewtopic.php?t=6133&start=0
An AusRotor Thread On the "Swiss Cheese - Bridge Port"
http://www.ausrotary.com/viewtopic.php?t=53397&start=0
Exhaust port Designs
There was an argument previously on a different design of exhaust port to use on a rotary, As in comparison to
Piston ex ports the rotary is considerably diffrent.
Alternative 1 -
The whole Cylerindical Shape of the rotary Ex port seems to be totally wrong in comparison (to a pistons). The
resons are you have the rapidly expanding port tunnel which goes straight out of the chamber horizontally so to
speak. So my theory is the port tunnel should exit on an upward angle as that is the direction the exhaust
gases want to flow and the tunnel shouldn't expand so rapidly as this kills the velocity, And one key part to a
rotary exhaust is to have a maximum exhaust velocity, as they work best "scavaging" (on An NA Ported rotor) And
also high exhaust velocity is needed on turbo applications for obvious reasons. I would assume this would work
well on paper, As i have yet to see any Proof of this being better then the stock Peripheral port style Ex
ports.
A new port design As show below which mimics the style exhaust u see on piston engines "performance V8s" in
this case.
http://home.iprimus.com.au/brap/exhport/1.jpg
http://home.iprimus.com.au/brap/exhport/2.jpg
http://home.iprimus.com.au/brap/exhport/3.jpg
http://home.iprimus.com.au/brap/exhport/4.jpg
http://home.iprimus.com.au/brap/exhport/5.jpg
http://home.iprimus.com.au/brap/exhport/6.jpg
http://home.iprimus.com.au/brap/exhport/7.jpg
http://home.iprimus.com.au/brap/exhport/8.jpg
http://home.iprimus.com.au/brap/exhport/9.jpg
Turbo applications -
For a turbo setup, you would do the usual port on the rotor housing, and have the port tunnel going in the
upward direction, though have the tunnel expand in an outward motion along the length of the tunnel say on like
a 3 - 5 degree angle on all sides for example. Though Not at the rapid rate the factory does. If that makes
sence.
Argument -
The factor that gives rotary engines inherently fast flowing exhaust gas is the peripheral exhaust port. If you
think of it in terms of combustion chamber pressure, with a peripheral exhaust port, the port opens suddenly,
which causes pressure to drop rapidly. The effect of this higher peak pressure exhaust gas pulses, and
therefore higher velocity exhaust gas exiting the engine.
So, to my mind, based on this, the best way to increase exhaust gas velocity is to encourage as fast port
opening as possible to encourage sudden pressure drop - ie to keep the beginning of the port flat - this would
increase exhaust gas velocity, but also noise.
The port size at the face of the rotor housing cant be too big, as that would either make the port open
earlier, losing alot of combustion pressure, or stay open longer, giving alot more overlap, and causing the
rough idle of a big ported motor, but without the extra power.
but given the size of a 'typical' V8, around lets say 5 litres for simplicity, well kinda. anyways, with a 5
litre V8 each cylinder is 625cc capacity. which is expelled through each valve, in aropund 1/4 of available
time (exhaust stroke is 1 of 4 so roughyl 1/4 the time available) which means, at say 4000RPM its pumping
625x1000=625 litres of air per minute.
a 13B is 654cc chamber capacity, which is expelled every single revolution, so at 4000RPM it is 4000x654=2616
litres of air per minute.
which is alot more than the piston motor, so it needs all the room it can have, because due to the amount of
gas there, velocity will be right up there.
another point, as I said, only around 1/4 of the time air is being pumped out of a piston engine, so even
though it is still expanding, it has 3/4 of the cycel to keep expanding and get out, sop it doesnt need so much
room, but a rotary exhaust is still expanding, and doesnt have a break in time to get the gas out, so it simply
needs more room. keeping in mind the residual combustion pressure does alot in the early stages to expell gas,
a rotor really needs to get the old gas out quickly.
so really, the best design would be big straight through, but it isnt feasible due to port timing issues, and
having a taper is alot better then having a sharp edge, so they do
as for the angle, the angle is about right, because the gas is going in a rotating motion, while expanding, and
the same as a ball on a string swung around you head, when let go, it will move off at a tangent to the circle
it is currently on. the sum direction of all the gas particles during combustion, would be somewhat higher
angle than the current ports, but again, to keep the taper for reasons I said above, there is simply no room to
have the better angle.
although, I guess if you want to, it would improve lowend response, possibly, but I simply dont think there is
the outright flow potential for big RPM and big power.
Pics Of A 10A Made by Mazda with ports Similar to above mentiond
http://www.users.bigpond.com/andrew.fla ... s/P0001600
[1].jpg
the 10A would need more of a scavenging effect to enhance low down torque - compared to the 13B anyway - which
is probably where those port shapes help.
i would say on a 13B, as i said, the low down effects would be awesome, very responsive throttle etc but at max
revs you would see a power drop off because they become restrictive as the volumetric efficiency of the engine
increases - and it would increase rapidly on the larger 13B due to better seals, more capacity and less
leakdown than the older 10A.
Further info on the matter (from NO pistons forum)
http://www.nopistons.com/forums/index.p ... 5439&st=0&
Alternative 2 -
Another Design, as i found what RICE RACING had done was rip the whole exhaust sleeve out of the rotor housing
and make the hole as big as it could possibly be!
Open it up to the maximum that will fit much wider, higher and lower, basically the width is the same as the
outer wall minus the sleeve (flush) Port shape is square with small angles on top to be gentler on apex seal
(though looks flat !). I just did it to try it basically and now I would not go back to a small port exhaust.
The overlap is greater but I dont find this a problem at all, It has a strong enough feel to it and still makes
power around 7.5k rpm with 1k of flat torque peak to boot
The Header just needs to be tuned length and of decent size to work with port. I run 2.5" of the motor (2.5" ID
is about the same size of the Ex Port Minus the Sleeve) then step down to 2" ID before turbo inlet, exact
lengths and step point I will leave you to figure out but I like it and have not found any negative aspects
besides little higher idle required and softer low rpm responce (below 2.5k rpm).
Peripheral Applications -
It Also was Brought up that identical intake and exhaust ports on a rotary could be benifitial, in this case
this is only possible on the PP, here is some pictures of this where there is a mazda factory housing, race pp
Housing with identicle Ex ports, to me it sounds practical, as intake and exhaust would be at equil, though i
have no raw proof to show advantages, im sure the noise would be extreemly loud, and a race application would
be most suited, as its hard enough keeping a PP with stock exhaust ports quiet let alone widend ones!
http://home.iprimus.com.au/brap/sump/periport.jpg
Id like to thank
Kypreo, Akira and Rice Racing for input into this article